Sustainable Approaches to Waste Management: Regulatory and Financial Instruments
Maksym Kutsevych

Olena Yara

Liudmyla Golovko

Volodymyr Terpeliuk
Abstract
with the provisions and principles of EU waste policy and development of suggestions for improvement of Ukrainian law. The article provide an overview of EU waste legislation, main EU investment policy and its contributions to municipalities in the area of solid municipal waste management. The ways of ecological modernization of the management of solid municipal waste were investigated. Proposals for implementation of experience of EU member states, which has proved itself in practice, were made.
 Keywords: EU waste management, EU law, adaptation of Ukrainian legislation to EU standards, financial instruments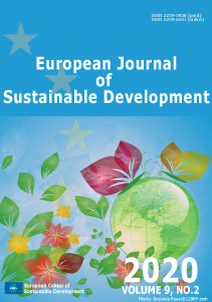 How to Cite
Kutsevych , M., Yara, O., Golovko, L., & Terpeliuk, V. (1). Sustainable Approaches to Waste Management: Regulatory and Financial Instruments. European Journal of Sustainable Development, 9(2), 163. https://doi.org/10.14207/ejsd.2020.v9n2p163

This work is licensed under a Creative Commons Attribution-NonCommercial 3.0 Unported License.
Authors of articles published in the European Journal of Sustainable Development retain copyright on their articles. Authors are therefore free to disseminate and re-publish their articles, subject to any requirements of third-party copyright owners and subject to the original publication being fully cited.  The ability to copy, download, forward or otherwise distribute any materials is always subject to any copyright notices displayed. Copyright notices must be displayed prominently and may not be obliterated, deleted or hidden, totally or partially.