Corporate Social Responsibility through Voluntary Commitment in Small and Medium Sized Enterprises – the Case of the 'Heilbronn Declaration'
Abstract
Corporate Social Responsibility has grown popular among discussions in economics and societies worldwide. To a growing extent customers make their buying decisions under
CSR aspects. Enterprises try to follow up with CSR strategies. But often a gap has to be detected between the theoretical approach of CSR and practical implementations within the entrepreneurial reality. This article introduces a possible approach of closing the gap within CSR implementation. The 'Heilbronn Declaration' is a voluntary agreement of enterprises and institutions in Germany especially of the Heilbronn-Franconia region. The approach of the 'Heilbronn Declaration' targets the decisive factors of success or failure, the achievements of the implementation and best practices regarding CSR. A form of responsible entrepreneurship shall be initiated to meet the requirements of stakeholders' trust in economy. Therefore it has been elaborated by academics together with enterprises and their shareholders. It is an approach to make voluntary commitment more binding. Its scientific base may allow
development of indicators for CSR implementation in business ventures and institutions to finalize in a CSR audit. The innovative approach of the 'Heilbronn Declaration' is the
integration of the prospective signatories into discussion on the idea and purpose of business from the very first beginning.
Keywords: sustainability, corporate social responsibility, innovation, voluntary commitment, authentic CSR, small and medium sized enterprises (SME)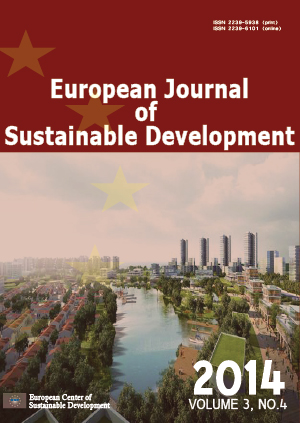 Downloads
How to Cite
Stehr, C., & Jakob, B. E. (2014). Corporate Social Responsibility through Voluntary Commitment in Small and Medium Sized Enterprises – the Case of the 'Heilbronn Declaration'. European Journal of Sustainable Development, 3(4), 135. https://doi.org/10.14207/ejsd.2014.v3n4p135