PlaceMaking Approachment to Accomplish Social Sustainability
Abstract
Together with migration and rapid population growth, social relations of the city inhabitants began to deteriorate. Together with this, individualization and isolation of people which leads to social problems have been debated in the scientific literature from the 1960s. In this context, the ensuring of social cohesion has become increasingly important developing by public spaces and place making idea which include communitybased participation approach. However, placemaking idea is criticized because of being elitist, not to provide social equity and caused the gentrification by different views. The aim of this study is introduce that how placemaking idea has been evaluated which is
developed by Jane Jacobs' "eyes on the street" concept and become related to social sustainability until now. As a research method, various case studies have been observed
and literature review has been conducted. Result of the analysis, process and application differences of placemaking approaches have been examined. Thus, how placemaking
approach to be effective in different places on social sustainability was discussed, hence the positive and negative aspects were revealed as well. Obtained results of this study are expected that contribute to the design and planning principles of cities to create engaged community.
Keywords: Placemaking, community, social sustainability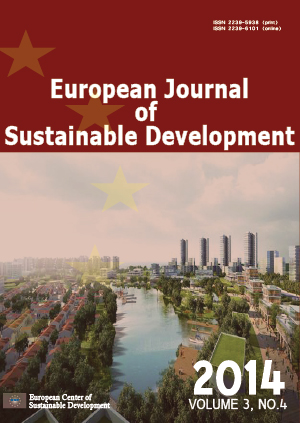 Downloads
How to Cite
KUTAY KARACOR, E. (2014). PlaceMaking Approachment to Accomplish Social Sustainability. European Journal of Sustainable Development, 3(4), 253. https://doi.org/10.14207/ejsd.2014.v3n4p253