Cooperative Microfinance in Agriculture Analyzing the Outreach and Financial Sustainability of Albanian Savings & Credit Union
Abstract
Our research aimed in analyzing the outreach and financial sustainability of Albanian Savings & Credit Union. It was based on a descriptive study and on quantitative data that
was collected through interviews, direct observations and different annual financial statements. Concerning the outreach, our study found out that the number of active clients increased from 7,621 active clients in 2003 to 15,499 active clients in 2012. The average loan size showed a growth for the period 2003-2008 by reaching the amount of $US 2,509, then it decreased at $US 2,207 in 2010 and raised at $US 2,314 in 2012. From the other hand, the
Operating Expense Ratio has shown instability such as from 9.62% in 2002 it dropped to 8.62% in 2007 to fell off to 7.58% in 2009 and raised again in 2010 by 8.20%, while the
cost per loan increased by making the ASC Union inefficient.
Moreover, the dependency ratio reduced from 89% in 2005 to 26.8% in 2012 while retained earnings to total capital ratio went up to 9.2% in 2008, but then it reduced to 6%
in 2012. Similarly to the dependency ratio, the donated capital has also shown reduction over the years from 45% in 2005 to 9.2% in 2012, allowing the ASC Union to be
financially self-sufficient.
Key words: Microfinance, Microcredit, Outreach, Financial Sustainability, Credit Union,
Albania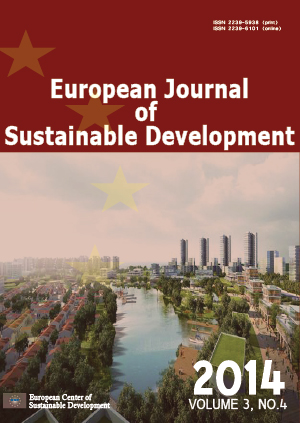 Downloads
How to Cite
Bou Dib (Lekocaj), J., Lekocaj, J., & Dijk, G. van. (2014). Cooperative Microfinance in Agriculture Analyzing the Outreach and Financial Sustainability of Albanian Savings & Credit Union. European Journal of Sustainable Development, 3(4), 29. https://doi.org/10.14207/ejsd.2014.v3n4p29