Information Component of the Environmental Policy of Ukraine: Current Status and Development Potential
Abstract
The article emphasizes the importance of the role of the information component of the environmental policy of the modern state within the context of the reorientation of human-nature relations towards sustainable development. The existing approach of the Ukrainian lawmaking body to the determination of environmental information, the features of environmental information relations and the state-regulatory mechanism of its control are analyzed. The emphasis is placed on the existing ineffective system of collecting, analyzing, processing and transmitting information, which actually brings to naught the fairly broad rights of citizens in the environmental information sphere. A new differentiated approach is proposed to determine the structural elements of the information component of the environmental policy in Ukraine, based on which the main existing gaps of the modern state policy of Ukraine in this field are emphasized. Their solutions are proposed, among which are: the creation and organizational support of the automated information and analytical systems and other objects (sources) of providing access to environmental information; optimization of the existing procedural order for obtaining environmental information by contacting the public authorities and local governments in obtaining environmental information by the interested parties; responsibility tightening of public officials of executive and local authorities for failure to comply with the requirements of the law, for the timely provision and reliability of environmental information; adaptation of the national regulatory framework to international standards for environmental management and environmental labelling of products, etc.
Keywords: information, ecology, environmental information relations, environmental policy of Ukraine, information policy of Ukraine.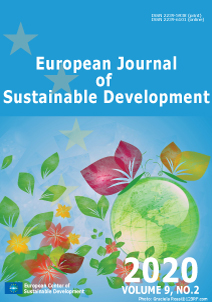 Downloads
How to Cite
Haraschuk, V. ., Zelinska, Y. ., Spasenko, V. ., & Shulga, I. . (2020). Information Component of the Environmental Policy of Ukraine: Current Status and Development Potential. European Journal of Sustainable Development, 9(2), 69. https://doi.org/10.14207/ejsd.2020.v9n2p69
License
Copyright (c) 2020 European Center of Sustainable Development
This work is licensed under a Creative Commons Attribution-NonCommercial 4.0 International License.