The Impact of Corporate Sustainability Index on BIST Sustainability Index
Keywords:
Sustainability Index, BIST, Corporate
Abstract
Mass production, which started with the industrial revolution, caused both the unconscious consumption of the resources and the damages to the ecological system after the production. In this respect, the concept of sustainability, which is one of the most important conception of responsibility, is gradually gaining value in terms of protecting resources and transferring them to future generations. (Mori and Christodoulou, 2012: 94-106). Sustainability In the first place, it has started to be used mostly in the management of natural resources; later, it was used in different fields such as sectoral practices and energy tourism (Diaz - Baltciro, Voces, Romero, 2011: 761-773).
Today, the expectations of the society from the enterprises have changed compared to the past. These changing expectations lead businesses to new searches. The most important concept that guides these quests is to be sustainable. The concept of sustainability for enterprises gains a new dimension in the form of corporate sustainability".
For corporate sustainability, it is possible for organizations to achieve individual results only to a certain extent. Because companies are affected to a great extent by all kinds of economic, social and even cultural formations occurring in their environment (Kuşat, 2012: 238).
The most important benefit of sustainability indices is that it leads to improvements in transparency without the need for regulations, better understanding of the social and environmental impacts of companies and guiding them to reduce the negative effects of company activities.
The BIST Index serves as a guide for companies on what to measure, what needs to be developed and what can be explained. Thus, it creates opportunities for companies to see social and environmental risks and opportunities and to manage their sustainability performances correctly. The index, on the other hand, provides information to investors and the community about the sustainability performance of companies.
The aim of this study is whether the BIST Sustainable Index makes a difference for companies compared to BIST 100. "Does the BIST Sustainability Index really make a difference?" will be examined. In this context, data between 2014-2018 of BIST Sustainability and BIST 100 index will be examined. Based on the results obtained in the study, it shows that there is no strong evidence of the impact of inclusion in the BIST Sustainability Index on the stock returns of companies. At the same time, the BIST Sustainability Index has been shown to have similar returns to the BIST 100 Index.
Key Words: Sustainability Index, BIST, Corporate.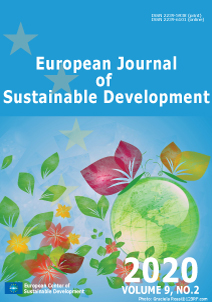 Downloads
How to Cite
VARDARI, L. ., GASHI, R. ., & GASHI AHMETI, H. . (2020). The Impact of Corporate Sustainability Index on BIST Sustainability Index. European Journal of Sustainable Development, 9(2), 375. https://doi.org/10.14207/ejsd.2020.v9n2p375
License
Copyright (c) 2020 European Center of Sustainable Development
This work is licensed under a Creative Commons Attribution-NonCommercial 4.0 International License.