Evaluation of the Convergence of International Markets for Agricultural Enterprises of Ukraine under International Diversification Conditions
Abstract
It is proposed the classification of indicators of convergence assessment of international markets for determining their marketing attractiveness for the enterprise, which includes absolute and relative indicators of measurement of general statistical data, evaluation of factors of production, information on products and services, dynamic indicators and convergence indicators used by enterprises for the search of new international markets. In the expert assessment of convergence indicators, the markets of foreign countries, the indicators of which are as close as possible to the Ukrainian economy, are distinguished, the result of the assessment allowed to draw conclusions about the marketing opportunities of domestic enterprises in the conditions of the export of goods to the markets of these countries. As the analysis of practical aspects of the functioning of agricultural enterprises and their associations results, a scientific and methodical approach to a comprehensive convergence of agricultural enterprises activities of Ukraine assessment under the conditions of international diversification has been developed. The proposed approach is based on the method of summing up the ranks to rank foreign markets according to the system of dynamic indicators application, which allowed to determine the marketing attractiveness of new international markets for the domestic enterprises activity in these markets and to assess their convergence. As the application of the proposed approach result, foreign markets have been identified which demonstrate favorable conditions for doing business on them, indicating the convergent conditions existence, which is a prerequisite for domestic agricultural enterprises to the markets of these countries release, and also determines the factors and criteria for making managerial decisions regarding realization of domestic agrarian enterprises activity under international diversification conditions. It is proved that the markets of Belgium, Italy, Ireland, Switzerland, and Japan have demonstrated favorable conditions for doing business with them, indicating a significant convergence of markets in these countries. It is determined that the markets of Greece and China are promising for domestic enterprises in the presence of opportunities to overcome a significant margin of discretion.
Keywords: convergence, international diversification, international markets marketing attractiveness, convergence evaluation of international markets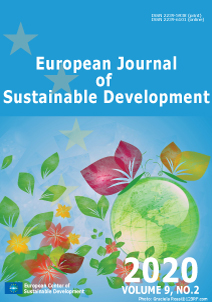 Downloads
How to Cite
Tanasiichuk, A. ., Kovalchuk, S. ., Hromova, O. ., Inna, H. ., & Olena, F. . (2020). Evaluation of the Convergence of International Markets for Agricultural Enterprises of Ukraine under International Diversification Conditions. European Journal of Sustainable Development, 9(2), 467. https://doi.org/10.14207/ejsd.2020.v9n2p467
License
Copyright (c) 2020 European Center of Sustainable Development
This work is licensed under a Creative Commons Attribution-NonCommercial 4.0 International License.