The Role of Sensitivity Training for Managing Diversities in Sustainable Smart Societies
Abstract
Entrepreneurial attempts play a key role to make behaviors in a global connected context. In this attempt, it is crucial to manage diversities and extend the capacity of the understanding and knowledge on the sensitivity for making sustainable and smart societies. This research aims to evaluate the perceptions of members of Non-Government Organizations (NGOs) on sensitivity training and sheds a light on description, content and benefits on sensitivity and its' training in order to create mutual understanding from life experiences on different types of NGOs. As qualitative research was employed in this research, interview and word association methods were used as data collection methods. As the study group, 35 members of various NGOs participated the research and their reflections on sensitivity training as a managerial and organizational perspective were analyzed using interview and word association methods coding through content analysis. In this respect, for data analysis, computer-aided qualitative data analysis software (RQDA) was conducted that R package was used. This research revealed firstly that the most frequently mentioned words for sensitivity definition were empathy which is related with interpersonal relationships and emotional intelligence (EQ); self-knowledge which is related with awareness and conscious; and the viewpoints of oneself like perception and bias. Secondly, to examine the suggestions of the different NGO participants suggesting the managers for raising awareness on sensitivity among their employers in a workplace, themes were identified as managers' own personal approach that is being their own example, trainings and the approach of the human resources department. Thirdly, the benefits of an education for sensitivity skill to sustainable smart societies for global citizenship and its contribution to the development of the sustainable smart societies are overlooked. The main themes were collected under the headings of communication, productivity and respected organization. In the light of the findings it can be stated that with sensitivity training in the workplace, social relations and group atmosphere improve and at the referred point, when benefits of sensitivity training is overlooked,very useful results are reached for individuals, groups and organizations that are directly related for sustainable and smart societies. The sensitivity training is an activity to determine the tasks to be carried out in order to achieve certain goals, to determine the personnel to perform this function, to determine the competencies and responsibilities and organizational relations of global citizens in smart societies.
Keywords: Empathy, Global Citizenship, Management Sensitivity, Smart Society, Training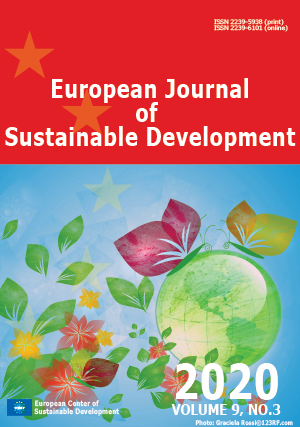 Downloads
How to Cite
Karaatmaca, C., Altinay, F. ., Altinay, Z. ., & Dagli, G. . (2020). The Role of Sensitivity Training for Managing Diversities in Sustainable Smart Societies. European Journal of Sustainable Development, 9(3), 13. https://doi.org/10.14207/ejsd.2020.v9n3p13
License
This work is licensed under a Creative Commons Attribution-NonCommercial 4.0 International License.