Corporate Social Responsibility in the Development of Territorial Communities of Ukraine
Abstract
Main modern society trends tend to transfer a number of government functions to business structures. Accordingly, discussions about the social dialogue between government and business are being arisen in the scientific community. Therefore, there is the enhanced relevance of the problem of social partnership among government, business, and employees. This requires the development of various versions of the corporate social responsibility concept. The article deals with the problem of an integrated approach to the essence of corporate social responsibility. Enterprises and authorities of territorial communities characterized by conflicting interests are determined to be the economic agents of corporate social responsibility. To reach the consensus between them, a system of corporate social responsibility management is proposed. To determine the impact of business entities on the development of territorial communities of Ukraine in the direction of improving the economic security of the territory as part of the social responsibility of modern business, the main structural activity indicators of business entities in Cherkasy region are analyzed. The results of the analysis revealed many problems in assessing such impacts. These are the absence of unified forms of social non-financial reporting as well as a non-systemic enterprise engagement in the development of the territory. To quantify the impact of business entities, an integrated impact coefficient of social responsibility of an individual business structure on the development of the territorial community is proposed. The coefficient determines the impact of the business structure on the economic growth of the territorial community, the environmental situation in the region, the level and the quality of life.
Keywords: social responsibility, socially responsible business, territorial community, non-financial reporting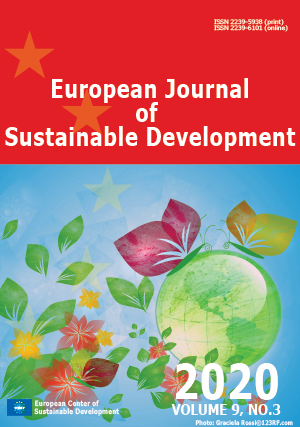 Downloads
How to Cite
Chyzh, V. ., & Sakhno, T. . (2020). Corporate Social Responsibility in the Development of Territorial Communities of Ukraine. European Journal of Sustainable Development, 9(3), 39. https://doi.org/10.14207/ejsd.2020.v9n3p39
License
This work is licensed under a Creative Commons Attribution-NonCommercial 4.0 International License.