Regional Disparities in Turkey: A Socio-Economic Perspective
Abstract
Economic development, for any country, is one of the most important objectives to be achieved. However, development cannot be realized in all regions and provinces of a county at the same time and speed. Turkey also struggles against a persistent economic development problem among regions in east-west and coast-inland for many years. This study aims to analyze the regional inequalities in Turkey under the scope of economic, demographic and social indicators from 2007 to the latest data. The results indicate that TR-10 Istanbul is the engine region of Turkey in terms of industrialization and development with the highest contribution (31%) based on service and industry sectors, to the gross value added. Other industrialized regions are the Aegean region where localization economies mainly dominated and the East Marmara and TR51-Ankara regions where urbanization economies operated in. Agricultural activities heavily concentrated in Aegean, Antalya, Konya and Şanlıurfa regions. In these regions, participation in the labour market is also very high. However, the highest income inequality and poverty is also found in TR10, TR62 and TR21 regions. The less developed region is the Southeast Anatolian region in terms of low income, education, health and high unemployment, young population and immigration rates.
Keywords: Regional disparities, regional development, socio-economic indicators, Turkey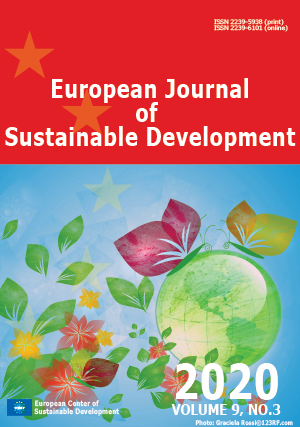 Downloads
How to Cite
Karaalp-Orhan, H. S. . (2020). Regional Disparities in Turkey: A Socio-Economic Perspective. European Journal of Sustainable Development, 9(3), 103. https://doi.org/10.14207/ejsd.2020.v9n3p103
License
This work is licensed under a Creative Commons Attribution-NonCommercial 4.0 International License.