A Conceptual Framework Outlining Factors Affecting the Acceptance of Earth as a Sustainable Building Material in the United Kingdom
Abstract
Despite the fact that contemporary earth construction may open up new avenues to cutting down CO2 emissions, a review of literature reveals that there is sparse research to date identifying reasons behind why there may be resistance to earth construction as a sustainable construction material in the United Kingdom. The aim of this paper is to formulate a conceptual framework that facilitates a clearer understanding of factors affecting the acceptance of earth as a sustainable material in the UK. To achieve this aim, this study adopted a research methodological framework comprising of an extensive review of literature, the Delphi technique, and in-depth interviews. The conceptual framework provides insight into factors related to the UK context specifically including a lack of technological innovation, resources, well-established supply chain networks, training facilities in universities and building codes. These issues may be addressed through the promotion of earthen architecture as a method of cutting CO2 emissions and introducing earth construction modules in relevant degree programs.
Keywords: conceptual framework, factors, building material, earth, environmental sustainability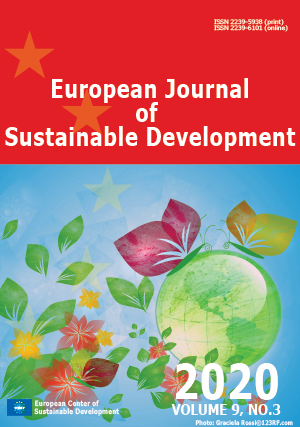 Downloads
How to Cite
Zami, M. S. . (2020). A Conceptual Framework Outlining Factors Affecting the Acceptance of Earth as a Sustainable Building Material in the United Kingdom. European Journal of Sustainable Development, 9(3), 241. https://doi.org/10.14207/ejsd.2020.v9n3p241
License
This work is licensed under a Creative Commons Attribution-NonCommercial 4.0 International License.