Sustainable Local Development in Romania in the Opportunity of Creating Jobs
Abstract
The economic, social transformations of the last three decades of evolution of rural development both in Romania and in general in rural areas in the context of globalization have radically changed the vision, thinking and attitude of the rural population. As a result, it has led to a massive migration of population to other developed countries. This phenomenon is also characteristic for Romania. At the same time, the technological development has a massive impact on the process of organizing the society and the evolution of the society, both the evolution of biotechnologies, nanotechnologies, branches in the field of chemistry, biochemistry and digitization, which have impact on the development or underdevelopment of the areas in poverty and underdevelopment. economic, but at the same time they will be able to make an essential contribution to the local rural development and to the creation of new job opportunities for both young people and specialists from different branches, as well as for vulnerable groups of population from the rural area. In this article we aim to address these issues and come up with certain solutions and proposals.
Keywords: Sustainable local development, rural areas, technological development, digitization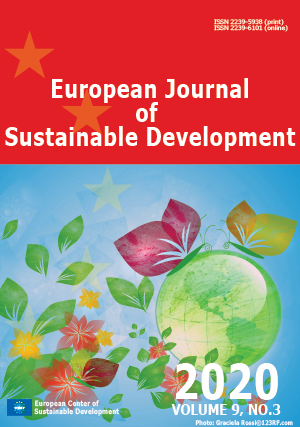 Downloads
How to Cite
Bran, F. ., Ciobanu, G. ., Popescu, M. L. ., & Vasilache, P. C. . (2020). Sustainable Local Development in Romania in the Opportunity of Creating Jobs. European Journal of Sustainable Development, 9(3), 287. https://doi.org/10.14207/ejsd.2020.v9n3p287
License
This work is licensed under a Creative Commons Attribution-NonCommercial 4.0 International License.