Alternative Urban Eco Tours for Responsible Consumption and Sustainability – the Example of Bulgaria
Abstract
The European Environment Agency warns that Europe consumes too many resources and causes environmental degradation all over the world. This leads to growing demands on natural systems for food, water and energy. To achieve sustainability and ecological resilience it is necessary to complement technology-focused measures with approaches addressing consumption behaviors, changing lifestyles, enhancing knowledge and education.
There are environmental communication approaches stimulating responsible consumption and ecofriendly behaviors, conducted by science and educational institutions, non-governmental organizations and others. Among them, originating from Germany, are the alternative city tours, spread also in other western countries.
The aim of this case study is to design and verify urban eco tours for an eastern country - Bulgaria in order to increase young people's sensitivity to sustainability through responsible consumption and to encourage them for ecofriendly alternatives of everyday goods and services. An approach for their implementation in Bulgaria is developed and proved through qualitative and quantitative analysis, involving two different groups of youth – multipliers leading the tours and teenagers taking part.
The case study presents urban eco tours as an environmental protection tool, using information about environmental impact of consumption, combined with motivational activities, to change attitudes and encourage young people for ecofriendly lifestyles. 
Keywords: environmental communication, education for sustainable development, eco tour, consumption, ecology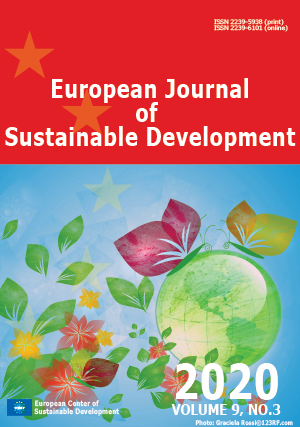 Downloads
How to Cite
Bancheva-Preslavska, H. ., & Dallmer, J. . (2020). Alternative Urban Eco Tours for Responsible Consumption and Sustainability – the Example of Bulgaria. European Journal of Sustainable Development, 9(3), 416. https://doi.org/10.14207/ejsd.2020.v9n3p416
License
This work is licensed under a Creative Commons Attribution-NonCommercial 4.0 International License.