A Sustainable Governmental Intervention Policy for Slum Upgrading: Road Infrastructure in Railway Down Quarter, Kaduna, Nigeria
Abstract
The urban cities in Nigeria are experiencing a deformation causing an urban decay with poor housing construction, improper use of unplanned land hindering urban spatial development. In this paper examination of slum prevalence in Nigeria and aims to propose development scheme to improve informal settlement of the urban cities focusing on governmental intervention and development policies in all level of governmental authorities to upgrade the living conditions and obtain value for the urban low class. Harvesting the potential of the work force of this regions for urban development, aims to provide highlight to the use of infrastructural development particularly road network to aid connectivity and urban design. A review of informal settlement mainly on the absence of infrastructure and degraded environmental conditions in an unplanned settlement in the city of Kaduna popularly known as Railway Down Quarter, proposes a possible strategy and approach for a sustainable upgrading policy. This research develops a conceptual approach of the necessity of mainly road infrastructure a medium that introduces services and a sustainable development in informal settlements in Kaduna, Nigeria by government intervention. 
Keywords: Slum upgrade, government policy, road infrastructure, Railway Down Quarter, Kaduna, Nigeria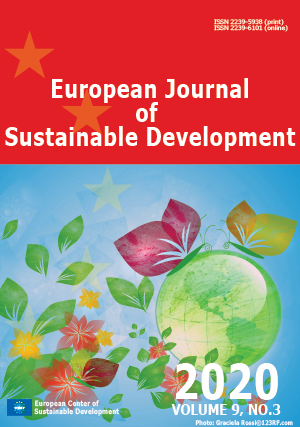 Downloads
How to Cite
Iliya, S. ., & Gürdallı, H. . (2020). A Sustainable Governmental Intervention Policy for Slum Upgrading: Road Infrastructure in Railway Down Quarter, Kaduna, Nigeria. European Journal of Sustainable Development, 9(3), 581. https://doi.org/10.14207/ejsd.2020.v9n3p581
License
This work is licensed under a Creative Commons Attribution-NonCommercial 4.0 International License.