Regional Environmental Systems as a Driver of Innovative Economy in Ukraine
Keywords:
innovative development, financial support, sustainable development, environmental economy
Abstract
Nowadays, the concept of innovative development is a generally accepted approach to promoting social and economic development paradigm both at global and national level. However, the rapid changes in external and internal conditions in relation to science and innovation caused the need to integrate innovative priorities with environmental imperatives to support sustainable development of modern society. Thereby, the above-mentioned tendencies are also highly widespread at local (regional) level, because both innovation and environmental practices play an essential role for social development, economic growth, improved productivity and competitiveness, and improved quality of life. Thereby, research problem lays upon the regional environmental systems and their influence at innovative development in Ukraine. The paper aims to provide scientific support on environmental systems development and their connection with innovative development indicators at the regional level. The research methodology is based on official statistical data on Ukrainian economy innovativeness analysis during the last ten years. The environmental component is analyzed at the regional level that allowed us to rank Ukrainian regions in accordance with the level of their environmental responsibility, propose a measure of transformation to their strategies. As the result, the groups of regional environmental strategies were defined in accordance with criteria of their effectiveness and need of transformation. Thus, the research highlights the special status of environmental economy, based on its specific characteristics and influences at innovative development, including network effects, the ability to convert environmental and innovative benefits into significant social effects, hybrid and multiplicative.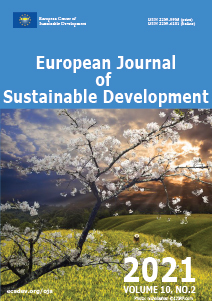 Downloads
How to Cite
Gernego, I. ., Petrenko, L. ., Dyba, M. ., & Onikienko, S. . (2021). Regional Environmental Systems as a Driver of Innovative Economy in Ukraine. European Journal of Sustainable Development, 10(2), 33. https://doi.org/10.14207/ejsd.2021.v10n2p33
License
This work is licensed under a Creative Commons Attribution-NonCommercial 4.0 International License.