Architectural and Urban Education in Egypt in the Post Covid-19 Pandemic
Keywords:
Covid-19, distance learning, architecture education, Sustainable education
Abstract
Quality of education is a global Sustainable Development Goal (SDG) to be achieved by the united nations by 2030. The covid-19 pandemic resulted in a significant problem in education worldwide and Egypt with problems related to the shift to distance learning and accessibility to technology and facilities supporting this shift. This paper aims to contribute to the currently ongoing research that asses the changes in architecture and urban education due to the Coronavirus pandemic, including the shift to distance learning in the practical courses that initially need studio work. The state of distance education via the Internet is difficult for architectural teaching curricula. Most studio environment courses require in-class follow-up. In developing countries like Egypt, not all architecture schools are equipped to move to e-learning, and most have not dealt with this before. This paper assesses student satisfaction and analyzes the entire process of distance learning in practical architectural courses during the coronavirus pandemic in Egypt. the research applies a quantitative and qualitative approach. A questionnaire was designed and distributed; 304 students from 17 Egyptian schools of architecture responded. A survey and series of interviews were completed among twelve schools of architecture in Egypt to analyze their responses during the crises and study the shift to e-learning in teaching the practical courses. The paper shows that the psychological effect and working solo from home have affected the students the most. There is a need to solve the internet problems, train the staff and the students to use the online tools for virtual classes, and provide a stable e-learning platform. The future of the traditional studio environment is under questioning. This study responds to the urgent need to evaluate the effect of Covid-19 on architecture education and to question the studio environment in the future to achieve a sustainable higher education in schools of architecture in Egypt.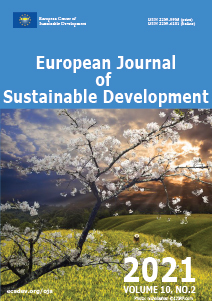 Downloads
How to Cite
Elrawy, S. ., & Abouelmagd, D. . (2021). Architectural and Urban Education in Egypt in the Post Covid-19 Pandemic. European Journal of Sustainable Development, 10(2), 91. https://doi.org/10.14207/ejsd.2021.v10n2p91
License
This work is licensed under a Creative Commons Attribution-NonCommercial 4.0 International License.