The EU ETS Top Ten Polluters List as a Policy Tool of Climate Action Organisations
Keywords:
top polluters list, climate policy, EU emissions trading system, energy transition, coal phase-out, climate action organisations
Abstract
The EU ETS is one of the most important EC instruments to curb CO2 emissions. Various climate action organisations use verified emissions data from EU ETS to calculate top EU polluters lists. These shortlists are actively used in their advocacy strategies as an evidence of national or EU-wide climate policies (under)performance to influence policymaking. However, there is no official EU ETS top ten list released by the EC what weakens the political power of this tool. Addressing possible reasons for EC's reluctance the paper investigates the correlation between the presence of national enterprises in the EU ETS top ten list and the national climate policy actions over 2008-2019 timeframe. Despite different limitations, the EU ETS top ten is adequately reflecting main developments in national efforts to curb GHG emissions and is pointing out underperforming countries and industries covered by the EU ETS. In the variety of hard and soft EU climate policy instruments, the EU ETS top ten polluters list could feature as an information tool. It is especially important for climate action organizations, providing them with an officially released rating as a common reference point that they could use in their evaluations and political campaigns.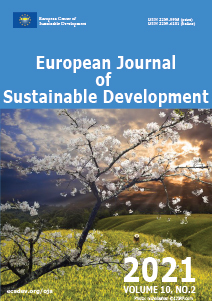 Downloads
How to Cite
Zimakov, A. . (2021). The EU ETS Top Ten Polluters List as a Policy Tool of Climate Action Organisations. European Journal of Sustainable Development, 10(2), 201. https://doi.org/10.14207/ejsd.2021.v10n2p201
License
This work is licensed under a Creative Commons Attribution-NonCommercial 4.0 International License.