Problems and Prospects of Budgetary Financing of Social Protection in Ukraine
Keywords:
social protection, financial resources, budgetary financing, budgetary expenditures, state budget, local budget
Abstract
The sphere of social protection of the population occupies an important place in the socio-political life of the country. For the qualitative development of the social protection system, it is necessary to ensure the priority flow of funds in this area. Budgetary funds, which are the main source of financing, are a financial guarantee for the citizens of the country to receive the necessary level of social services. The study analyzes the dynamics of financing social protection from budget funds. The problems of financial support in this area have been identified. The peculiarity of financing the system of social protection of the population in Ukraine is that it was conceptually and practically formed on the basis of a significant role of the state, thereby directing a significant part of the expenditures of budgets of all levels to this industry. The dynamics of changes in financing of social expenditures from all types of budgets of Ukraine and their structure has been investigated. Part of budget expenditures on social protection in the structure of total budget expenditures is growing much more slowly than total budget expenditures due to the stagnation of almost all of its components. In monetary terms, the gap between deductions for social protection of the population becomes even more noticeable. And although in recent years in Ukraine the size of public expenditures directed to social protection of the population has increased, many types of social benefits and allowances have turned out to be insufficiently ineffective. This increases the unproductive burden on public finances and creates significant distortions in social protection. The main directions for the further development of the sphere of social protection should be the optimization of powers for the implementation of expenditures between the authorities of all levels. Endowing local and regional authorities with revenues sufficient to finance the assigned powers through decentralization of budgetary funds will help to achieve a balance between regional and local budgets. This will help optimize the social security system and improve the quality of life of the Ukrainian population.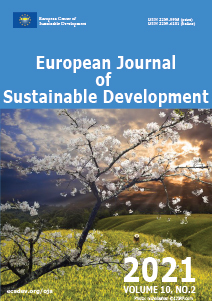 Downloads
How to Cite
Sievidova, I. ., Oliynik, T. ., Chorna, A. ., Vitkovskyi, Y. ., Kvyatko, T., & Plyhun, S. . (2021). Problems and Prospects of Budgetary Financing of Social Protection in Ukraine. European Journal of Sustainable Development, 10(2), 219. https://doi.org/10.14207/ejsd.2021.v10n2p219
License
This work is licensed under a Creative Commons Attribution-NonCommercial 4.0 International License.