S-LCA Indicators as Employee Motivation Factors
Keywords:
motivation of employees, S-LCA, employee´s satisfaction, social impact
Abstract
There are a lot of factors affecting employee motivation in the company. Some of them are supported by law, while others result from voluntary activities of the company, and the way to some of them still have not been found. Our research dealt with one of the possibilities, the S-LCA indicators as employee motivation factors. The attention is usually paid to companies and their system of employee stimulation. This research is supported by in-depth literature review in the field of S-LCA. Our research addressed employees of one medium-sized company to find out what they think of the activities of their management in the area of stimulation of their employees. Using a factor analysis, we found seven basic motivation factors, i.e. Safety at Work, Fair Remuneration, Social Security and Benefits, Work Climate, Basic Rights and Freedoms, Corporate Image, and Equal Opportunity. In the context of social impacts of manufacturing on employees, individual employee groups are motivated to work in different ways.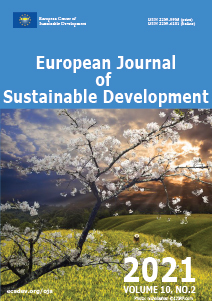 Downloads
How to Cite
Vavra, J. ., Patak, M. ., Kostalova, J. ., & Bednarikova, M. . (2021). S-LCA Indicators as Employee Motivation Factors. European Journal of Sustainable Development, 10(2), 267. https://doi.org/10.14207/ejsd.2021.v10n2p267
License
This work is licensed under a Creative Commons Attribution-NonCommercial 4.0 International License.