Teenagers and New Media: Impact on Foreign Language Proficiency and Cultural Sustainability
Keywords:
ICT, digital devices, digital competences, foreign language learning, cultural sustainability
Abstract
There is a wide range of evidence to support the view that new technologies serve an integral part of teenagers' life. However, in Hungary, it seems that even though the facilities are provided in most of the educational institutions, these are not in regular use due to teachers' lack of competence, the willingness of using them or their constant operational problems. Using a qualitative, small-scale study conducted in semi-structured focus group interviews (N=8) with 15 participants in five Hungarian primary schools, the study primarily aims to uncover how teenagers can relate their foreign language advancement to their use of digital devices in their free time. Furthermore, the paper examines their views on foreign language (FL) instruction supported by ICT at school as well as which digital devices and for what purposes they would preferably use them in FL classes. The study implicitly raises the issue of cultural sustainability and tries to find evidence to what extent mass culture affects the Hungarian language proficiency of students. According to the results, teenagers' attitude towards institutional foreign language learning seems to be quite traditional, as they cannot relate their free time activities spent with digital devices to study purposes at school. Although participants are conscious about the effectiveness of ICT promoting language learning, they think that watching films, instructional videos, or working with projected tasks connected to course books are the major reasons for using digital devices for classroom purposes. Regarding cultural sustainability even within this small-scale study, there is some evidence that English as one of the most influential languages of mass culture can have an impact on the mother tongue language maintenance.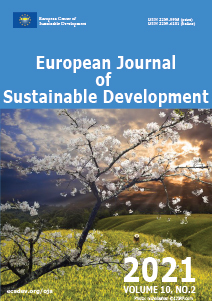 Downloads
How to Cite
Boldizsár, B. . (2021). Teenagers and New Media: Impact on Foreign Language Proficiency and Cultural Sustainability. European Journal of Sustainable Development, 10(2), 301. https://doi.org/10.14207/ejsd.2021.v10n2p301
License
This work is licensed under a Creative Commons Attribution-NonCommercial 4.0 International License.