OER as a Tool for Sustainable Development: The Ukrainian - Latvian Experience of Forensic Science Experts
Keywords:
OER, education, future, forensic experts
Abstract
One of the important factors influencing the quality of modern education is Open Educational Resources. The new form of education was recognised by UNESCO and become an important element in achieving the main goals of Sustainable Development in the field of Education. Open Educational Resources play transformative role in the cases of supporting both regular and specific fields of education. The paper examines the role of Open Educational Resources in the field of such a specific industry/occupation as forensic experts. Forensic experts' learning process has several levels that start from the access to higher education. The requirements to receive forensic expert's certificate stems from the national law. And these requirements could vary from country to country. Open Educational Resources represent an opportunity for a great number of learners in various study fields. Nevertheless, those resources are not used in forensic expert education. To clarify the possibility to use Open Educational Resources in specific forensic expert education field, a research on forensic expert education in Latvia and Ukraine has been conducted. Open Educational Resources can improve the quality of education on at least two levels. The first one is the quality of teaching content and the second is the modern learning environment, providing access to all necessary researches that are necessary to pass the forensic expert examination. Authors found out that nowadays Open Educational Resources are not applied in forensic experts' education. As the research reveals, the main resources are legal documents and practical knowledge provided by academic staff. From the authors perspective it is suggested to create an Open Educational Resource that could provide forensic experts with the information necessary to pass the examination and to improve both practical and theoretical skills. Nevertheless, Open Educational Resources in such a specific field can met several challenges.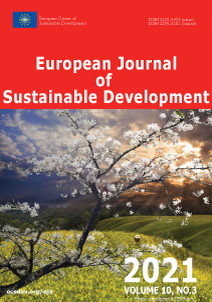 Downloads
How to Cite
Palkova, K. ., Agapova, O. ., & Zīle, A. . (2021). OER as a Tool for Sustainable Development: The Ukrainian - Latvian Experience of Forensic Science Experts. European Journal of Sustainable Development, 10(3), 15. https://doi.org/10.14207/ejsd.2021.v10n3p15
License
This work is licensed under a Creative Commons Attribution-NonCommercial 4.0 International License.