Climate Change and Health Protection in European Union
Keywords:
climate change, human health, environment, data mining analysis
Abstract
Climate change (CC) represents a real fact with consequences that start to be seen more and more often and that is why it cannot be ignored anymore. It affects many domains of the human activities and also the health of the people. Climate-specific actions are needed to be taken in order to protect the people and to save the environment. For each affected domain, new regulations and actions regarding climate change prevention must be designed, promoted and implemented. Besides phenomena like heat waves, storms, increased temperature, forest fires, floods, etc. which represent direct results of the CC, also indirect results like human health may be encountered. Human health is affected by elements that are having a big impact over the environment of the people and over the resources that they need (resources like water, food, air, natural resources, etc.). CC has also implications on people migration, the fight over the natural resources, political and economic environments. This paper offers an overview of the most important factors that are affecting the health of the people from the CC point of view and which are the main challenges that most affected countries from EU are dealing with.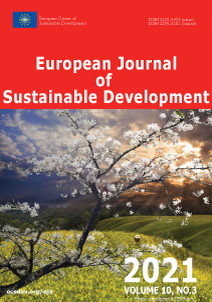 Downloads
How to Cite
Ioan Mogos, R. ., Negescu–Oancea , M. D., Burlacu, S. ., & Troaca, V. A. . (2021). Climate Change and Health Protection in European Union. European Journal of Sustainable Development, 10(3), 97. https://doi.org/10.14207/ejsd.2021.v10n3p97
License
This work is licensed under a Creative Commons Attribution-NonCommercial 4.0 International License.