The Role of Climate Ethics in Biodiversity Conservation
Keywords:
Climate Ethics, biodiversity, conservation, Biodiversity Conservation, environment, ecology, and environmental ethics
Abstract
The environmental crisis manifests in various ways such as: desertification, deforestation, marine and atmospheric pollution, environmental racism, destruction of biodiversity and so forth. One of these, the destruction of biodiversity has continued unabated. Many factors have caused biodiversity loss. The most serious of these factors is climate change. This paper argues that to conserve biodiversity there is serious need to combat climate change. Combating climate change requires more than knowledge of scientific facts and public policy, there is need for climate ethics and ethically reconstructive human behaviours that act for climate justice. Through critical analytic and hermeneutic methods the concepts that ground the paper are interpreted and examined. The issues that the paper deals with are critically dissected and appraised. The paper finds that biodiversity loss is one of the most serious problems in the environmental crisis. The paper concludes that climate ethics can help to mitigate biodiversity loss.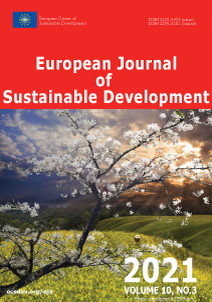 Downloads
How to Cite
Ikeke, M. O. . (2021). The Role of Climate Ethics in Biodiversity Conservation. European Journal of Sustainable Development, 10(3), 205. https://doi.org/10.14207/ejsd.2021.v10n3p205
License
This work is licensed under a Creative Commons Attribution-NonCommercial 4.0 International License.