Impact of digital performance in growing businesses (Case study Republic of Kosovo)
Keywords:
digital performance, growing business, managing digital transformation, value chain, strategic management, human resource
Abstract
Purpose: The aim of this Article is related to the impact that digital performance exerts on development of countries in transition. The data for this article were extracted from a wider survey conducted in the Republic of Kosovo.
Methodology: A large number of factors were analyzed in this paper, with a view of presenting the whole impact of digital performance and importance of business development in continuity. This survey includes businesses and employees. A special focus was made on management of digital transformation, value chains and a strategic aspect which result to be among major factors influencing the business performance The paper includes a methodology of research, research questions and hypotheses, survey data report divided into two sections (viewpoint of company and employees), and a final chapter of the paper relates to the presentation of conclusions and recommendations of the study
Findings: Results of this paper show that there is a positive correlation between digital performance and business growth, however a special impact is made by human resources in establishing and implementing functional strategies, based on market demands and technological development trends.
Practical implications: The digital transformation is a MUST for all business types. The Covid 19 situation approve the importance of business digitalization and benefits of this investment.  
Originality: The study is conducted with primary and secondary data and all the empirical analysis are original based on the authors' calculations through econometric models.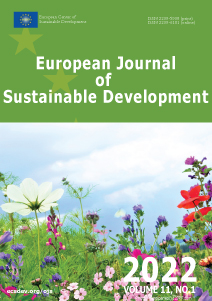 Downloads
How to Cite
Shehu, E. ., Sejfijaj, O. ., Morina, F. ., & Memaj, F. . (2022). Impact of digital performance in growing businesses (Case study Republic of Kosovo). European Journal of Sustainable Development, 11(1), 230. https://doi.org/10.14207/ejsd.2022.v11n1p230
License
This work is licensed under a Creative Commons Attribution-NonCommercial 4.0 International License.