Use Case on Environmental Impact Assessment in the Fish Canning Industry
Keywords:
Industry 5.0, Ecological transition, Environmental sustainability, Energy savings, Greenhouse gas emissions, Carbon footprint, Water footprint, Food waste
Abstract
This paper covers the environmental impact of manufacturing industrial production processes for addressing the Sustainability dimension of Industry 5.0. The model implemented by the GOGreen solution – an AI based software solution for the calculation and monitoring of the food waste and carbon and water footprints - integrated in the European Connected Factory Platform for Agile Manufacturing (EFPF), is presented as an enabler to support the environmental impact assessment in industrial SMEs. The requirements to be fulfilled by the overall system are presented together with the architecture of the integrated solution. As a use case, its implementation in a fish canning industrial process is presented to provide an exemplary scenario illustrating the process workflow and the role of the solution. The main goal of this paper is empowering non-professional users to perform the assessment of the environmental impact of their industrial processes, which is indeed a capability key in Industry 4.0 and will be even more relevant in Industry 5.0.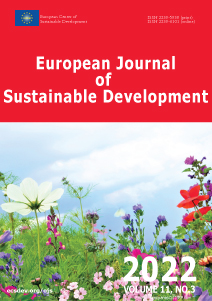 Downloads
How to Cite
Contreras, A. V. ., Sabater, A. R. ., & Valencia, F. G. . (2022). Use Case on Environmental Impact Assessment in the Fish Canning Industry. European Journal of Sustainable Development, 11(3), 43. https://doi.org/10.14207/ejsd.2022.v11n3p43
License
This work is licensed under a Creative Commons Attribution-NonCommercial 4.0 International License.