Aspects Regarding Renewable Sources in the European Union
Keywords:
European Union, renewable sources, energy
Abstract
The use of renewable energy sources offers opportunities for regional and local development. Thus, it can be appreciated that the use of renewable sources can stimulate the development of local communities. An advantage is also given by an increased security in terms of local energy supply, but also by a reduction in energy transport losses. Recently, there has been some interest in investing in the development of energy generation technologies and especially in renewable sources. For the period 1990-2020, a comparative situation of gross electricity production and electricity production capacities for renewables is presented. Pollution and climate change can affect both the production and consumption of electricity. There has been interest in using more and more diverse sources. Given the interest in reducing energy consumption in transport, important measures are needed to increase the energy efficiency of transport. In the article, an analysis is made of the share of renewable energy in the final gross energy consumption, for the period 2004-2020, with particularization for the transport sector.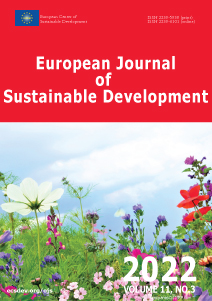 Downloads
How to Cite
Rădulescu, C. V. ., Angheluță, P. S. ., Burlacu, S. ., & Kant, A. . (2022). Aspects Regarding Renewable Sources in the European Union. European Journal of Sustainable Development, 11(3), 93. https://doi.org/10.14207/ejsd.2022.v11n3p93
License
This work is licensed under a Creative Commons Attribution-NonCommercial 4.0 International License.