Brand Image during WAR
Keywords:
brand image, war, earned media, social media networks, web 3.0
Abstract
Due to the latest war, that unfortunately has a worldwide impact not only on humanitarian emergency, on the attacked country, but as well as at the economic level with greater international influence. Almost all countries, with very few exceptions, have interdependent economies and rely mainly on raw materials, goods, financial services, finite products, technology, know-how that are supplied by other states. We live in a Global World, where friendship, stewardship, understanding, mutual respect and the protection of humans' life must prevail both for very few "blessed", but also for all the inhabitants of the Earth. The recovery after the CoVid-19 pandemic is not complete, as the actual pandemic was not totally wiped out; many countries still need time to restore their Gross National Income, as a result, different economic sectors were likewise affected by medical emergency and restrictions. Innumerable multinational companies decided, owing to the latest war against Ukraine, to cease, suspend and even withdraw their activities, production and even brands from the aggressive country. In this article, we want to discover if appealing to this kind of measures has increased their brand image among actual and potential customers. The findings are quite intriguing.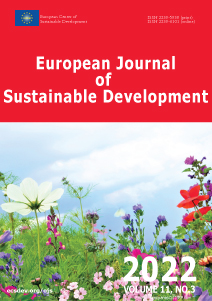 Downloads
How to Cite
Moise, D. ., Diaconu, A. ., Gombos, C. C. ., & Spiridon, C. E. . (2022). Brand Image during WAR. European Journal of Sustainable Development, 11(3), 117. https://doi.org/10.14207/ejsd.2022.v11n3p117
License
This work is licensed under a Creative Commons Attribution-NonCommercial 4.0 International License.