Subjective Human Potential in Overcoming the Strategic Instability
Keywords:
subjective human potential, strategic instability, consciousness, behavior patterns, interdisciplinary research, human nature, adaptation, network structure
Abstract
The article is devoted to the actual problem of the subjective potential of a person in overcoming the challenges and contradictions of the modern world. The authors actualize human nature, show its inconsistency, strengths and weaknesses, insufficient degree of its knowledge. Using the socio-psychological potential of a person in solving global problems of mankind means relying on knowledge of human nature, models of his behavior, the totality of his properties and qualities. The 21st century has led not only to the complication of the surrounding world, but also to the complication of the social world of man. The social world becomes a reality for a person - perceived through the reflection of his "I" in other people. Metamorphoses of actual changes in human nature in the process of sociobiological and sociotechnical co-evolution are shown, the quality of sociality itself changes under the influence of network structural social transformations. It is proved that the strategic instability of the modern world is the result of adaptation features, a violation in her accommodation and assimilation, the destruction of the integrity of the individual. A way out of this state is possible only on the path of holistic human development, the increasing significance of its subjective potential.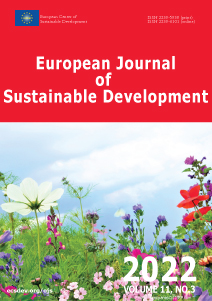 Downloads
How to Cite
Tiutiunnykova, S. ., Shpak, I. ., Berveno, O. ., & Moskvina, A. . (2022). Subjective Human Potential in Overcoming the Strategic Instability. European Journal of Sustainable Development, 11(3), 184. https://doi.org/10.14207/ejsd.2022.v11n3p184
License
This work is licensed under a Creative Commons Attribution-NonCommercial 4.0 International License.