Age of Economic Alliances - How SMEs Win the Market Using Alliances in Turbulent Times
Keywords:
Strategic alliances, SMEs, Business strategy
Abstract
The years of the pandemic meant more than a test to prove the maturity of the states - it was a good exercise for the business community around the world, to prove that it can survive extremely harsh conditions. Over the two years of the pandemic, SMEs have learned that the only way to survive is to work together, within strategic alliances, for a common goal - to make enough profit to survive.
This strategy of alliances in the field of SMEs was a response of the Romanian entrepreneurship to the competitive fight on the market, where the big companies, in order to obtain huge profits even if there was a cataclysm going on, did not "play" honestly and "attacked'' the few clients the SMEs had. On the other hand, small businesses have learned that "working together" is synonymous with "surviving." The synergy relationship achieved between small companies, transposed into economic alliances, are true examples of business.
Through our research, we wanted to see how these companies acted so we have created a model by which new entrants can develop these strategic alliances to grow quickly, gain customers, and cope with the turbulent environment in which they operate daily. For this, we performed a statistical and econometric analysis, using as a tool a questionnaire applied to a number of 156 SMEs in Bucharest-Ilfov and Giurgiu, as well as the output provided by the SPSS for Windows application. Preliminary results have shown us the existence of strategic alliances, which we later studied in order to create a model called the Survival Alliance in Modern Era (SAME). This model can be used as an important element of any strategy, a starting point in the rapid, sustainable, and efficient development of an SME, that is at the beginning of the road and wants to have a word in the market in which it operates.
 Key Words: Strategic alliances SMEs, Business strategy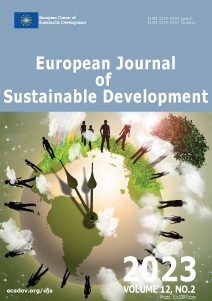 Downloads
How to Cite
LUPÉDIA, G. D. C. ., TĂNAȘCU, C.-I. ., STATIE, D.-A. ., & COSTACHE, R.-A. . (2023). Age of Economic Alliances - How SMEs Win the Market Using Alliances in Turbulent Times. European Journal of Sustainable Development, 12(2), 151. https://doi.org/10.14207/ejsd.2023.v12n2p151
License
This work is licensed under a Creative Commons Attribution-NonCommercial 4.0 International License.