Ecotourism in North Cyprus: Fostering Traditional Architecture in Accommodation Buildings for Sustainable Tourism
Keywords:
Tourism, Ecotourism, Accommodation, Architecture
Abstract
Tourism, which is defined as the exchange of culture in its general aspect, is categorised based on its intended purposes. Ecotourism has been introduced and become worldwide popular in the last quarter century with familiarising and experiencing local cultures through travels to the naturally and ecologically unspoilt parts of countries. Accommodation buildings that are significant elements of tourism activities are vital in ecotourism practices and sustainability due to the provision of cultural exchange for their visitors. Cyprus is an important tourism centre with its significant location in the world, cultural heritage with rich historical background and advantages from the Mediterranean climate. With the advantage of being an island, Cyprus still maintains the traditional living culture and ecological spaces, both of which create a huge demand for ecotourism. The residential buildings constructed and restored with traditional architectural characteristics are used as accommodation buildings at the ecotourism villages of North Cyprus. With architectural characteristics, authentic features and their service approach with local products, such buildings have vital role in sustainable ecotourism through introduction and promotion of traditional cultural richness to their visitors. Our research explains the definitions of tourism and ecotourism and their types by presenting our research on the tourism and ecotourism activities in North Cyprus. Then as the main dimension of our study, the accommodation buildings with traditional architectural characteristics were selected from the North Cyprus ecotourism villages as examples, and their common architectural characteristics were presented which were identified through a detailed field study. The findings and assessment on the architectural details about lodging structures were concluded the role and significance of lodging structures for ecotourism.
Keywords: Tourism, Ecotourism, North Cyprus, Accommodation, Architecture.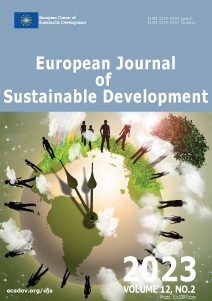 Downloads
How to Cite
Turkan, Z. ., & Yılmaz, M. D. . (2023). Ecotourism in North Cyprus: Fostering Traditional Architecture in Accommodation Buildings for Sustainable Tourism . European Journal of Sustainable Development, 12(2), 262. https://doi.org/10.14207/ejsd.2023.v12n2p262
License
This work is licensed under a Creative Commons Attribution-NonCommercial 4.0 International License.