The Role of Tax Policies in Sustainable Economic Growth. Evidence From Dynamic Panel Data Analysis
Abstract
This paper analyses the role of tax policies in supporting economic growth, based on the dynamic panel data model, for twenty-four Eastern European and Asian countries, divided in EU countries and non-EU countries, for the period from 2008 to 2022. Both, global financial crisis and Covid -19 Pandemic, imposed challenges for optimal tax policies that countries applied. The paper examines the main tax policies changes undertaken to support economic activity and estimates the expected effect on growth.
The study has found evidence of a positive effect of total taxes and indirect taxes on economic growth, strong and significant. Our results do not support the theory that direct taxes are harmful to growth. The impact of direct taxes is positive bot not statistically significant in most of the estimated regressions.
Keywords: Tax structure, sustainable development, panel data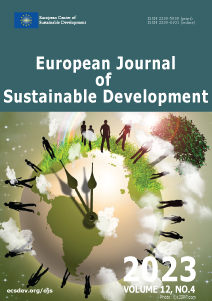 Downloads
How to Cite
Liko, E. ., & Shahini, L. . (2023). The Role of Tax Policies in Sustainable Economic Growth. Evidence From Dynamic Panel Data Analysis. European Journal of Sustainable Development, 12(4), 497. https://doi.org/10.14207/ejsd.2023.v12n4p497
License
This work is licensed under a Creative Commons Attribution-NonCommercial 4.0 International License.