Assessment of the Regions' Investment Attractiveness for Post-War Recovery: The Case of Ukraine
Abstract
The paper analyzes the directions for Ukrainian economic recovery after the war. The successes stories of the countries, that restored their economies after the war, were explored. As a result, the best practices of Israel seem most suitable for Ukraine.
Also, present research determines the priority areas for raising the investment attractiveness of the Ukrainian regions and tests the practical application of the results of their investment appeal evaluation, primarily on the basis of our own approach for their marketing, advancement and disclosure the capability. The paper's uniqueness lies in its emphasis on the proposed marketing territorial investments, in accordance with the results of a comprehensive monitoring of the region-specific investment climate in Ukraine.
A number of indicators effects on the regions' investment attractiveness. Comparing the regions among themselves, according to its figures, gives a new leader every time. The proposed Rasch mathematical model allows obtaining an integral assessment of the regions' investment attractiveness with the appropriate ranking. Such estimates can be used both by investors at the initial stages of choosing a region for investment and by representatives of local authorities to assess the investment attractiveness of the territory for a certain period. The future recalculation of these data will be based on the situation at the front and changes in the economic structure of each region. After the war, the casualties of each region must be assessed and an international audit conducted.
 Key words: Ukraine, post-war recovery, investment attractiveness, Rasch model, assessment.
Jel Classification: E 22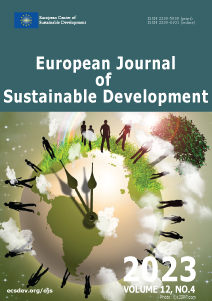 Downloads
How to Cite
Osadcha, N. ., & Zatyshniak, . V. . (2023). Assessment of the Regions' Investment Attractiveness for Post-War Recovery: The Case of Ukraine. European Journal of Sustainable Development, 12(4), 548. https://doi.org/10.14207/ejsd.2023.v12n4p548
License
This work is licensed under a Creative Commons Attribution-NonCommercial 4.0 International License.