Energy Sovereignty in Rural Areas: Off-Grid Paradigm for Strengthen the Use of Renewable Energy.
Abstract
Abstract
The policy guidelines for the UN General Assembly recognize the need of one universal and transformative agenda for sustainable development, based on the rights, and with people and the planet at the centre. This paper concerns a study of compact system designed to ensure energy independence and then energy sovereignty in marginal rural areas: the Off-Grid Box. This system is an integrated technical device, held in a 6 feet container, which provides - in a Plug&Play way – essential services and resources, namely electricity, hot water, rain water harvesting and storage for washing or irrigation and a water purification process to pasteurize or distil pure water (H2O). Key objectives are reducing greenhouse gas emissions, increasing the exploitation of renewable energy sources, safeguarding the quality and the availability of clean water, promoting a more sustainable and healthy way of life. OGB can be modulated in different geographical contexts and demonstrate the feasibility and the strategic use of total off grid systems for individual units ensuring energy sovereignty of local communities. These systems should be designed in terms incorporated in the territory in order to realize the small-scale-smart-grid. These scenarios are interesting in rural areas especially for small family farms that adopt sustainable models and methods of production with low environmental impact and low energy demand.
Keywords: Energy sovereignty, renewable energy, off-grid system, small scale farming, rural development.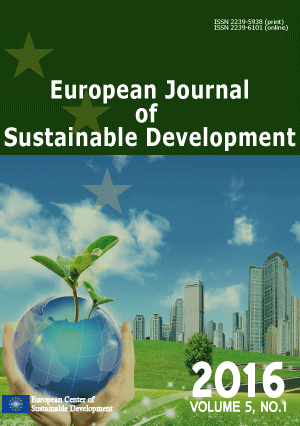 Downloads
How to Cite
Dell'Anna, S., & Menconi, M. (2016). Energy Sovereignty in Rural Areas: Off-Grid Paradigm for Strengthen the Use of Renewable Energy. European Journal of Sustainable Development, 5(1), 19. https://doi.org/10.14207/ejsd.2016.v5n1p19