The Relationship between the Disappearing Use Value of Urban Space and Gentrification: "Is Gentrification a Profitable Trade-off?"
Abstract
This paper investigates the lost use value of the city center within the framework of the property handover in Fikirtepe Regeneration Project and the gentrification process experienced by the old settlers. The paper aims to explain the nature of the change that takes place in the social structure of regeneration area and transforming of the city center's use value into the exchange value associated with the changing of social structure. The paper also aims to express what this replacement mean for old settlers and to discuss if the gentrification is a profitable trade-off for them. The data obtained from the questionnaires and the in-depth interviews conducted with the old settlers of regeneration area and the investors who prefer to buy real estate from the new projects in the region, have been analyzed in order to identify the relationship between the lost use value of the city center and the old settlers' perception regarding to the gentrification. The study demonstrates that: i) There is a socio-cultural change in the regeneration area. ii) The old settlers of gentrified area and also the investors, perceive gentrification as a process of obtaining financial gain iii) The use value of the center disappears as a result of this perception of gentrification. Briefly, the paper aims to show a relationship between the lost importance of use value in urban space and gentrification process.
Keywords:: Urban Regeneration, Gentrification, Use Value, Exchange Value, Real Estate Economic Rents, Istanbul.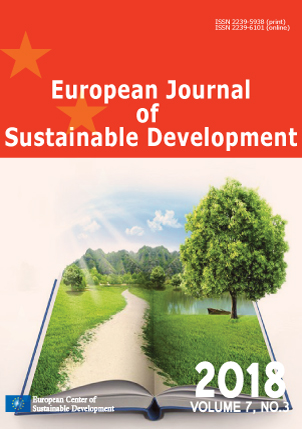 Downloads
How to Cite
Koseoglu, F. G., & Sönmez, N. Özdemir. (2018). The Relationship between the Disappearing Use Value of Urban Space and Gentrification: "Is Gentrification a Profitable Trade-off?". European Journal of Sustainable Development, 7(3), 175. https://doi.org/10.14207/ejsd.2018.v7n3p175