Influence of Transformational Economic Processes on Marketing Management by an International Diversified Conglomerate Enterprise
Abstract
In this article it is substantiated the necessity of radical changes study in the practice of domestic agricultural enterprises managing, creation of a new functional and organizational structure that will maximally facilitate the marketing strategy of business diversification by the agrarian enterprise of Ukraine. It is analyzed agrarian enterprises efficiency of activity under the conditions of the transformation processes, it is determined that the leaders of the domestic and world markets of agrarian products are agroholdings with a rigid management structure, and their marketing goals are a decisive factor while making choice of markets under the conditions of diversification activities. It is substantiated that the formation of an international diversified company of agrarian business provides equally to participating enterprises the use of common resources, redistribution of resources between structural units operating on one financial result, the possible loss of one enterprise is compensated by the profit of the group as a whole. Reformation of agrarian enterprises of Ukraine process is analyzed; in particular, in the case of farms in the context of international business diversification; it is determined the necessity of creating a new organizational structure of management by the agrarian enterprise. It is grounded the creation of a functional and organizational mechanism for an international diversified conglomerate enterprise activity in order to ensure the stability of its functioning under the conditions of the transformation processes.
It is proposed a new structure of functional and organizational management an international diversified conglomerate company on the basis of the developed marketing mechanism of enterprise management under the conditions of international diversification. It is substantiated that in Ukraine, the formation of such new international diversified conglomerate enterprises from small enterprises, by grouping farms (which by their number in Ukraine is most) will provide a positive result from overcoming the grinding of domestic agrarian business, consolidation of the agrarian sector and creating the opportunity to benefit from the budget of Ukraine from international diversified conglomerate business structures.
Keywords: transformational economic processes, international marketing, globalization, marketing management, international diversified conglomerate enterprise, business consolidation.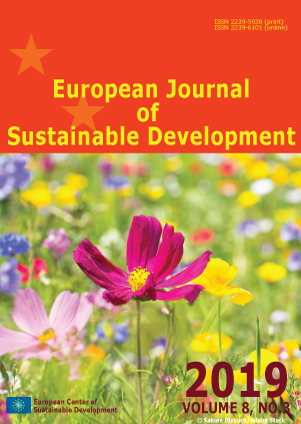 Downloads
How to Cite
Tanasiichuk, A., Hromova, O., Abdullaieva, A., Holovchuk, Y., & Sokoliuk, K. (2019). Influence of Transformational Economic Processes on Marketing Management by an International Diversified Conglomerate Enterprise. European Journal of Sustainable Development, 8(3), 448. https://doi.org/10.14207/ejsd.2019.v8n3p448